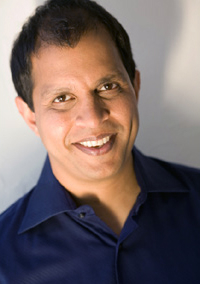 Mel D'Souza is the President and Executive Producer at SILO Entertainment Inc., a content development and rights holding company based in Vancouver, BC.  SILO primarily focuses on identifying and developing film, television and digital content for a global audience.  
Mel spent over 15 years living and working overseas where he held the position of Director, Business Development South Asia, with Channel [V] India - part of News Corp's, Star TV Network in Asia.  Before Channel [V], he was the Vice President, International Business Development with IN Media International, the Hinduja Group's Media & Technology division, which saw him living and working between Bombay, London and New York.  Recently he helped launch the content division for one of India's leading digital agencies, The 120 Media Collective, where he held the position of Executive Vice President Global Partnerships & Executive Producer/Business Head International.
Mel was born in Bombay and raised in Vancouver.  He has a career spanning over 28 years in the Media & Entertainment industry, with both North American and international experience.  And is a graduate from the award winning Asia Pacific Management Program - a post-graduate business program at the McRae Institute of International Management, at Capilano University, North Vancouver. 
Mel is a noted documentary producer, with eight documentary credits to his name and two more in the pipeline in 2021-22.  He is also an accomplished photojournalist with published photo-essays in numerous dailies and other print publications in North America and Asia.  
Mel was a Founding Member of SAFF Canada and sat as a member of NextMedia's Advisory Board, and BC Film's Asian Advisory Board.  He earlier was a member for The Asia Factual Forum's Advisory Board and was also a Special Advisor to The Weinstein Company for all their acquisitions and co-productions in South Asia. He currently sits on SFU's India Advisory Council, DOXA's Advisory Board and has attended numerous conferences and events around the world as a panelist, speaker, or delegate, sharing his insights and expertise about the international Media & Entertainment business, along with his in-depth knowledge and experience having lived and worked in South/SE Asia, specifically India.